It's no secret that the freight industry is complex. Whether you are a first time shipper, or a residual expert that ships daily, there is an entire language of freight terms that you need to be familiar with if you're going to get a firm handle on your shipping. That's what our FREIGHT TERMS blog post is for.
Here you'll find a constantly updated list of freight terms that will cover both LTL and truckload shipping freight terms. Throughout you'll find helpful links to other blogs and Freight Papers, and you can download the list as our Freight Dictionary.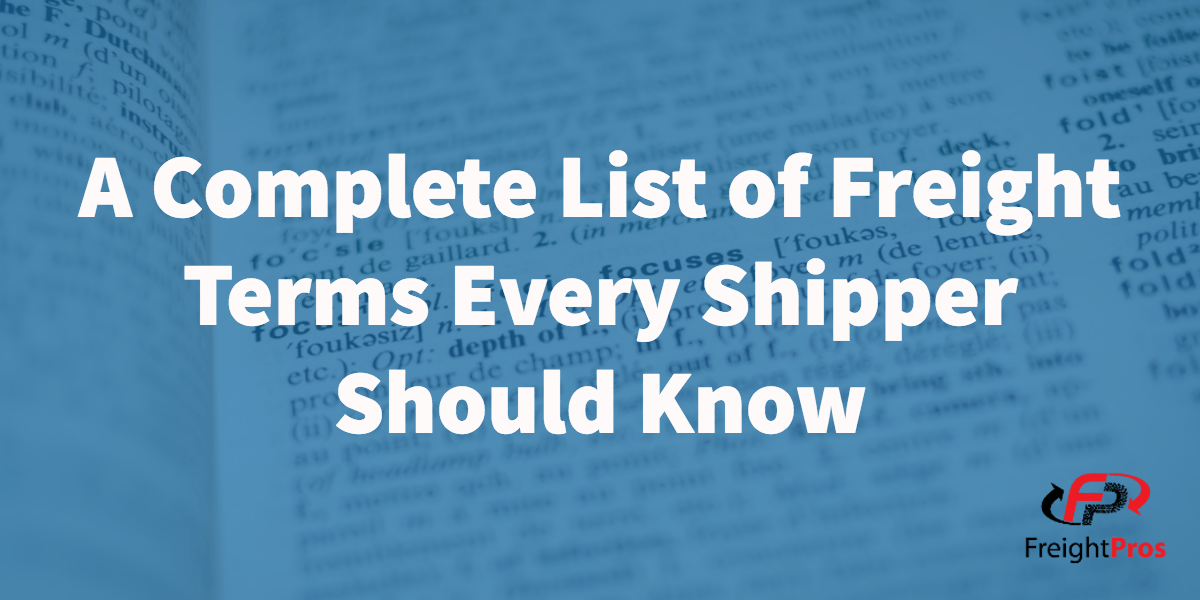 — A —
Accessorial – An additional service requested for a freight shipment. Most accessorials require an additional  payment that varies based on the service or carrier. Some common accessorials include liftgate services, and residential delivery. Download our LTL Additional Services Cheat Sheet for more information.
Accounts Payable – Part of the billing department in charge of paying carriers, operators, or factoring companies for services rendered.
Accounts Receivable – Part of the billing department in charge of collecting payment from carriers or customers for services rendered.
Air Cargo – Forms of freight shipping that uses planes instead of trucks, or trains. Air freight is usually more expensive, but also more expedited. Check out our blog on air shipments for more information.
Auditing (Freight) – Process performed by some freight brokers to confirm any additional charges before passing the final freight bill on to the customer.
— B —
Backhaul – In truckload shipping, transit required to reposition a truck and its driver after the initial load he was hired to transport. Also known as "headhaul." Learn more at our backhaul shipping blog.
Billing – Department at carriers or brokers in charge of invoices and payment.
Bill of Lading (BOL) – Document given to the carrier at the time of freight pickup with all necessary information for the shipment. This information includes: pickup and delivery locations, weight, class, commodity, and much more. Download our Freight Paper, The Importance of Using the Correct BOL, for more information.
Bonded Warehouse – A Customs-controlled warehouse for the retention of imported goods until the duty-owed is paid.
Bracing – Technique used to secure freight in the truck during full truckload shipments.
Broker (Freight) – Third party logistics provider that acts as a conduit between customer and carrier to secure freight pricing and services, among other things. Download our Freight Paper, 5 Services a Great Freight Broker Should Offer, for more information.
Bundle –  A grouping of products shipped that are generally unassembled. Similar to pallets or crates.
Business to Business (B2B) – Standard LTL shipment protocol that deems both the pickup and delivery location to be certified businesses, often with loading docks. If the shipment is not B2B, then additional services such as residential delivery will be required.
— C —
Capacity – In truckload shipping, capacity is determined by the amount of goods to be shipped, and the number of carriers/trucks to ship them. It is a large factor in truckload pricing. Read our blog on capacity in produce season for more information.
Carrier – A company or operator that transports both LTL and truckload freight. Read our blog on the differences between brokers and carriers for more information.
Cartage – Common term in truckload shipping referring to the actual commodities and freight being shipped.
Cash on Delivery – Also known as "Freight Collect." The process of paying (in cash) for a shipment at the time of delivery. Read our freight collect blog for more information.
Claim (Freight) – A charge made against the freight carrier for shipments that are damaged or lost. Download our Freight Paper, How to File a Freight Claim, for more information.
Class (Freight) – Freight class is an identification number assigned to all freight shipped LTL that helps determine price. Download our Freight Paper, The Mysteries of Freight Class, for more information.
Commercial Invoice – Document from the manufacturer that determines an item's value. Often used for freight claims.
Consignee – The receiver of an LTL or truckload shipment. The opposite of a "shipper."
Cubic Capacity – The carrying capacity of a truck or other piece of equipment measured in cubic feet.
Customer Service Representative (CSR) – An individual that works with customers to schedule pickups, deliveries, and freight tracking. CSR works closely with drivers, dispatchers, and claims departments.
Customs – Government authorities that collect duties on freight imports.
Customs Broker – Broker that handles all necessary paperwork and practices to get freight across the border. Customs services are not included in all freight broker services.
— D —
Deadhead – In truckload shipping, when a driver returns to a point of origin or market carrying no freight.
Declared Value – Value of the freight declared on the BOL at the time of pickup. Often used for claims or Customs purposes.
Delivery Appointment – Appointment set with the consignee to deliver freight. In LTL, most delivery appointments are considered accessorials and require additional payment.
Delivery Receipt (DR) – Also known as a Proof of Delivery (POD). Document signed at time of delivery notating if the freight is accepted in good condition. Most often used for claims purposes. Read more at our delivery receipts blog.
Density – Measurement of an item's pounds per cubic foot. Important for freight quotes, and density-based freight class.
Detention – Fee assessed by a carrier when a truck is held up at delivery or pickup longer than the time allotted for the service.
Diversion – When freight is diverted to a different location while in transit. Also known as a reconsignment.
Drop Trailer – A carrier trailer that is left at a location for pickup at a later date, once it's filled. Read more at our drop trailer blog.
Dry Van – Standard truckload trailer either 48 ft. or 52 ft. long. Neither heated nor cooled. Learn more in our Truckload and LTL Trailer Equipment Guide.
Dunnage – Packing material used to protect freight in the trailer during transit.
— E —
Electronic Data Interchange (EDI) – Computer to computer transmission used primarily in freight to schedule pickups with carriers through a transportation management system.
ETA – Estimated time of arrival.
ETD – Estimated time of departure.
Expedited Shipment – Freight that is delivered faster than a standard shipment, for an additional fee.
— F —
Flatbed – Equipment used in truckload shipping to transport large items or machinery.
Freight Forwarder – Logistics company that acts as an intermediary between the shipper and the carrier.
Freight of All Kinds (FAK) – A rate agreement between shipper/broker and the carrier. Learn everything you need to know about FAKs.
Freight Collect – See Cash on Delivery.
— G —
Global Positioning System (GPS) – A system that uses satellites to find exact positions of objects on earth. Used in truckload freight to track carrier trucks/loads. Learn more about GPS truck tracking at our blog.
Gross Weight – The total weight of an item including packaging and palleting.
Guaranteed Shipment – An LTL shipment that is guaranteed for delivery by a certain time. An additional fee is paid for this service, and if the delivery time is not met the shipping charges can be wiped away.
— H —
Handling – A factor in determining an item's freight class. Items that are fragile or over-sized are often hard to handle, resulting in a higher freight class.
Hazardous Materials – Items designated by the Department of Transportation that pose a risk to health and safety. These materials require special permits, carriers, and drivers to move.
Household Goods –  A common shipping commodity in LTL that moves at class 150. Learn more about shipping household goods.
— I —
In Bond – When freight is held by Customs until fees or other charges are paid. In Bond shipments have not cleared Customs.
Insurance (Freight) – A system where the shipper or broker will agree to pay a premium for coverage in case of loss or damage to freight. Most carriers carry insurance, and third party insurance is often available as well. Coverage and deductible amounts vary. Download our Freight Insurance Guide for more information.
Interline – The process of using multiple carriers to transport freight to its final destination. Learn more about interline freight here.
Intermodal – The process of using multiple forms of transportation to move freight, such as van to train or shipping vessel. Learn The Basics of Intermodal Shipping here.
— L —
Less Than Truckload (LTL) – A form of freight shipping focused on moving freight that takes up less space than a full truckload. LTL has different pricing and functions than full truckload freight shipping.
Liftgate – A lift on the back of some trucks that assist in getting freight on and off the truck. Often used in place of a loading dock.
Load Board – Online message board where jobs/loads are posted allowing carriers and brokers to schedule pickups and deliveries.
Lumping – When the driver helps load or unload the truck at pickup or delivery.
— N —
National Motor Freight Classification (NMFC) – Tariff containing descriptions, classifications, and rules for shipping commodities. NMFC codes are tied to freight class.
Net Weight – Weight of a shipment not including packaging.
Notify Consignee – Additional service where the carrier will call the receiver to alert them that their shipment is out for delivery.
— O —
Over, Short, and Damaged (OS&D) – Carrier department that is in charge of overages, shortages, and damages. They are in charge of finding lost freight, and play a part in the filing of freight claims for damage or loss.
— P —
Parcel Shipment – Small package shipping that is usually handled by couriers like UPS or FedEx.
Pooling – The act of combining multiple shipments into one truckload to cut down on freight costs.
Pro Number – Tracking and identification number given to freight once it is picked up and in transit.
Proof of Delivery (POD) – Also known as a Delivery Receipt (DR). Document signed at the time of delivery notating damage or loss, or if the freight is delivered as expected. PODs are valuable in the filing of freight claims.
— R —
Reclass – Invoice discrepancy where the carrier invoices the shipment at a higher or lower class than notated on the BOL.
Reefer – Type of equipment that is temperature controlled, most often a refrigerated truck used to transport perishable items.
Reweigh – Invoice discrepancy where the carrier invoices the shipment at a higher or lower weight than notated on the BOL.
— S —
Shipper – Origin party of a freight shipment, and the opposite of a consignee. Shippers are responsible for getting the BOL to the carrier at the time of pickup.
Short Shipment – When freight is delivered, but is missing pieces as notated by the BOL.
Step Deck – Type of equipment used in truckload shipping for larger pieces. Learn more about step deck trailers.
— T —
Tariff – In transportation, a tariff refers to any fees, agreements, or rules that a carrier has in relation to a broker or customer.
Terminal – Carrier hub where freight is loaded and unloaded during LTL transit.
Third Party Logistics Provider (3PL) – A freight broker that acts as a go-between for customers and carriers. 3PLs often have discounted freight rates, and offer customer service.
Tracing – The act of tracking a shipment from pickup to delivery.
Transit Time – The time between when a shipment is picked up and delivered. Standard LTL shipments have estimated transit times.
Transportation Management System (TMS) – A web-based tool that assists customers in scheduling pickups, creating BOLs, tracking shipments, and more.
Truckload (TL) – A type of freight shipping that specializes in moving freight that takes up a full truckload of space. Truckload shipping is different from LTL, and has it's own carrier and pricing structures.
— V —
Vendor – The manufacturer or distributor of a product. Many carriers will make pickups directly from vendor warehouses.
Volume Quote – A type of LTL quote for shipments that are larger than the standard LTL size, but smaller than a full truckload quote. Download our LTL Volume Quotes Freight Paper.
— W —
Waybill – Document used by the carrier containing relevant shipment information such as pickup and delivery locations. Also known as a Bill of Lading (BOL).
Weight and Inspection Certificate (W&I) – Document created by the carrier when a shipment is reweighed or reclassed. W&I certificates contain the date, location, and agent responsible for the discrepancy. They are used in freight claims.