Small businesses need to get their products safely to their distributors, retailers, and customers all over the country. They place their goods in boxes, crates or pallets in order to avoid damage during transit and, hopefully, they also deliver these on time.
LTL shipping solves this challenge and is the ideal method for business owners who want to maximize costs for large, palletized shipments or need to ship bulky items that are light yet require more space in the truck.
Related: What is Ground Freight Shipping?
And in this guide, you'll learn more about LTL shipping and its benefits, how it works, FAQs, and the next steps to take if it is the right shipping method for you.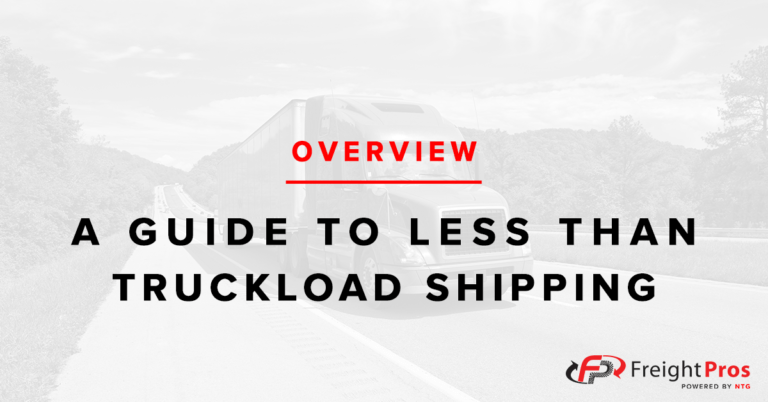 What is Less Than Truckload or LTL?
LTL shipments weigh from 150 lbs all the way up to 15,000 lbs and don't take up the whole space in the truck. Since your shipment alone won't need a full 48-foot or 53-foot trailer to transport, it is usually combined with other shipments from your carrier's other customers and you only pay for the space you take up in the truck.
Benefits of LTL Shipping
LTL shipping has several benefits for any business that needs to deliver their products to customers around the country.
Cost-efficient: Since your cargo only uses a small portion instead of the whole space in a trailer, that's what you only pay for. Most carriers also offer specialized handling at more reasonable costs if your shipment is fragile or hazardous.
Ability to ship smaller quantities: You don't have to wait for your production to output 10,000 lbs of product before you can ship out inventory. Smaller volumes that you can send out immediately means faster turnaround times and more sales.
Increased security: A well-packaged pallet securely holds boxes of goods together and reduces the chances of damaged freight. For shipments with special handling requirements, you can be rest assured that your shipment remains safe when it arrives at the destination.
Easy to track: Shipments are trackable because they are handled and "marked" in several points during transit. You can estimate its current location by looking at certain details like the bill of lading number, PRO number, PO number, shipment reference number and pick-up date range.
Environmentally-friendly: There are less trucks on the road when utilizing LTL shipping because all of these trucks are operating at their maximum capacity. As a business owner, you minimize your carbon footprint and help conserve the environment.
How Less Than Truckload Shipping works?
In a given local area, the carrier's truck collects the shipments from their customers and unloads them in a terminal where each order will be processed. Shipments bound for the same location are consolidated and loaded into another truck that transports them to a regional terminal. Shipments are then sorted out and loaded into smaller trucks for LTL delivery. 
In the US, LTL trucks offer tremendous flexibility because of lower costs and transport large items faster compared to rail because they're not dependent on the railroads' timetable.
How are LTL shipping rates calculated?
The cost usually depends on destination, dimensions and weight, mode of shipping, and type of shipment.
Destination: The further you have to ship your cargo, the more expensive it will be to do so.
Dimensions and weight: These two contribute to the freight class, which primarily dictate shipping costs.
Mode of shipping: Packages can also be expedited and your shipment can be customized with special services like liftgate pickup/delivery, inside pickup/delivery, residential pickup/delivery. All of these add to your shipping costs.
Type of shipment: Shipments that are fragile, perishable, or hazardous usually have special handling requirements and cost more to transport.
What is an LTL carrier?
The LTL carrier is usually a trucking company that mainly uses 28-ft to 53-ft trailers for local pickups and deliveries as well as tandem pup trailers for interstate hauls.
Difference between LTL and FTL
Full truckload (FTL) is another shipping option to consider and it differs with LTL shipping in three key areas: shipment handling, shipment size and weight, and pricing.
 
Less than truckload (LTL)
Full truckload (FTL)
Shipment handling

– Combines your shipment with shipments from other shippers

– The truck stops at several terminals between the origin and destination

– Your freight is handled several times as it transfers from one truck to another

– For refrigerated cargo, transit times are determined by set delivery routes and schedules

– Only your shipment is loaded onto the truck

– The truck picks up your shipment at the origin and directly proceeds to the destination

– Your freight never leaves the truck

– For refrigerated cargo, transit times aren't affected as much because refrigerated trailers are readily available

Shipment size and weight
– One to ten pallets per shipment – freight can weigh from 150 to 15,000 lbs
– A full truck can carry up to 26 pallets – freight can weigh from 5,000 lbs up to 45,000 lbs
Pricing
– Classing is regulated by the National Motor Freight Traffic Association (NMFTA)

– Standardized pricing based on commodity type, density, and ease of transport

– Different carriers still have different rates based on distance, volume, and any accessorials you may need
– Completely dependent on the supply and demand in the market

– May be negotiated with the carrier

– Shipment contracts widely vary from an operator with just a single truck to huge trucking companies with extensive fleets
How to prepare LTL shipments
Damaged or lost freight can be a source of delay, additional costs, and other issues. Here are three areas to prioritize in preparing shipments so they arrive in good condition at the destination.
Packaging and labeling: Shipments are encouraged to be placed in crates or on pallets and labeled accurately. Crates are usually for smaller units while pallets are for heavier and bigger items. Heavier packages are located at the bottom while lighter ones are stacked on top. Proper packaging also helps prevent damage as the goods aren't moving around during transit.

Dimensions: Calculate the height, width, and length after packaging your shipment and round them off to the next inch. The dimensions contribute significantly to the cost of shipping and accurately measuring them can save you money in the long run.
Documentation: The most important document to have is the bill of lading (BOL) from the carrier, which serves as the contract of carriage and includes all the relevant details about the shipment. Your carrier can easily execute the whole process when they have a copy of the bill of lading.
What are the additional services for LTL shipping?
LTL shipping can be customized with additional services that address certain requirements and concerns. It is also important to remember that selection of these services can add up to the cost of your shipment.
Expedited: If you need to get inventory to certain locations as soon as possible, you can request for expedited delivery of your shipment.
Inside pickup and delivery: If the driver needs to enter a building to pick up the freight or unload it at the delivery location, you should ask for this service.
Liftgate: This option is for cargo that weighs more than 100 lbs and the pickup or delivery location doesn't have a loading bay or dock where the shipment can be loaded/unloaded directly onto.
Limited access: This service is needed if carriers cannot easily access certain destinations like rural areas, construction sites and strip malls.
Related: What is Partial Truckload Shipping (PTL)?
LTL Weight Limits
The minimum weight for less than truckload shipments is 150 lbs. While the LTL maximum weight limit is up to 15,000 lbs.
LTL Freight Quotes
You'll need four pieces of information for every LTL freight quote:
The total weight of the shipment, packaging and palleting included.
The item's freight class.
The pickup address.
The delivery address.
Keep in mind that standard LTL shipments are B2B, which stands for "business to business" or "dock to dock." If either shipper or consignee are residences, you'll need pay additional fees. If a shipping dock is not available to easily retrieve the freight from the truck, you'll also need to pay an additional fee for a liftgate.
Conclusion
Like any big industry, there is a lot to know when it comes to less than truckload transportation and freight shipping. Hopefully this blog gave you the confidence and information you need to get started, but as you ship more, you'll want to become more educated about the different services that LTL can offer.
At FreightPros powered by NTG we've developed a HUGE database of information through our freight blogs. Check them out to gain further industry knowledge and insights.